Marlborough Playground
Client: The American School in London
Landscape Architecture: Staton Cohen Landscape Architecture
Artist: Lara Sparey
Project Management: TGA
Engineer: Price and Myers
Arboriculturalist: Marcus Foster
Contractor: Bowles & Wyer
Location: Westminster, London
Project Status: Completed August 2019
Accolades: Winner of Bali National Landscape Award 2020
Part of an ambitious project brief and programme, involving the redesign of external spaces, with a detailed planning application within a conservation area with listed trees, full tender process and completion on site within 8 months.
SCLA and Lara Sparey ran informal workshops with key members of staff to develop the ideas and a design response embedded in the guiding philosophy of the Lower School. The project reimagined the existing playground, reusing boundary conditions, whilst addressing issues of changes in level across the site. We worked rapidly through ideas to establish the principles to transform the space and integrate different forms of play, sensitive to the needs of different children.
The concept played on the loose idea of creating a 'wood' across the space, using natural materials wherever practical –
A copse of birch trees provided a new, calm focus to the centre of the playground, to encourage tactile, quiet play. An artwork of birch trees, emulated their structure across the wall of the brutalist, north facing building.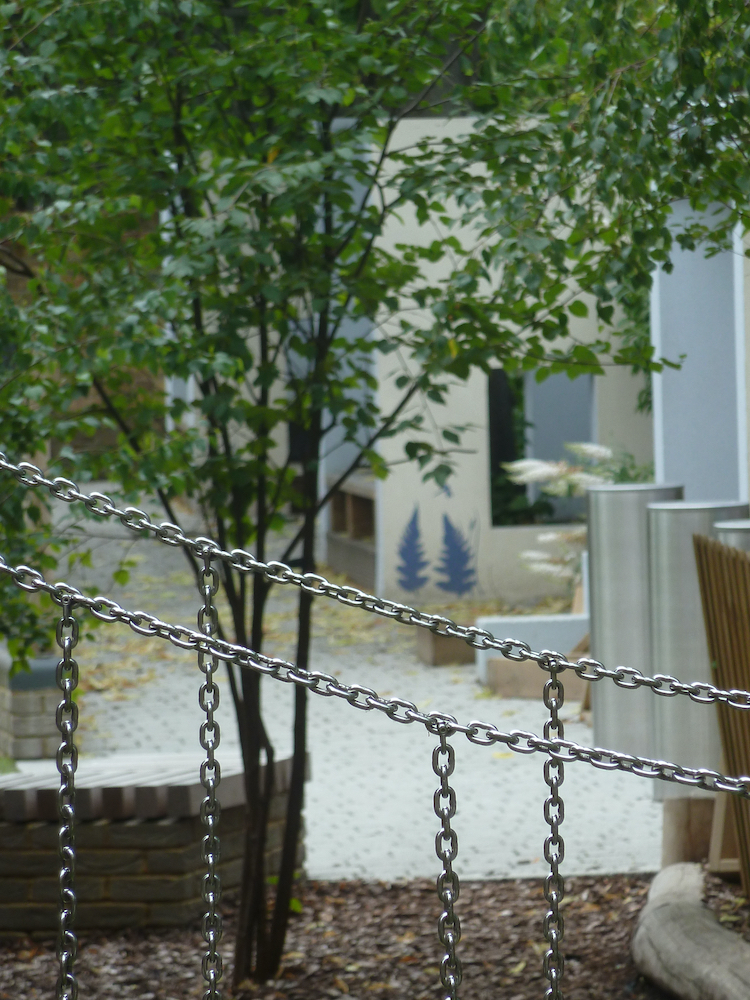 The existing houses to the perimeter were given new render and coloured in soft blues and greens, to enhance the sense of wellbeing and feeling of peacefulness. There are small playful artworks of shadows.
To accommodate a large number of children a bespoke timber climbing frame was built to fit the narrowest space, with connection routes – creating opportunities for sliding down, working upper body strength and discrete play spaces below. Additional level space was created through the creation of a small amphitheatre to enable social gathering, whilst using the new balance bar.
A new free play space was created, defined by edges and with a removable central fence. By pulling a retaining wall forward a safe perimeter route was formed, without disturbing physical free play. An area of new seating was installed, designed to appeal to parents to encourage conversation during pick-up time, to discourage mobile phone use.
The programme for delivery was intense, as this project was handed over ready for the school term. The contractor had to co-ordinate with the arboriculturalist, who attended regularly, as planning demanded most of the site be monitored to avoid damage to the root protection zones. There were additional constraints with having to co-ordinate access across the site, with another project for part of that time.